New Titles Published by Olive Tree
Olive Tree has two fantastic new resources that have been written and compiled by Olive Tree employees! Check out these resources that will bring new insight to your Bible study and depth to your personal devotions.
Compiled from great writers of the 19th century—Charles Spurgeon, Andrew Murray, Dwight L. Moody, F.B. Meyer and others — the Olive Tree 30 Day Devotional is a free resource that includes excerpted passages from the writings of these authors. Each day also includes a hyperlinked passage of Scripture and a topic for the day. Topics covered from day to day include faith, humility, witnessing, joy, prayer, provision, and many more. The words in this devotional will challenge you, encourage you, and spur you on to love the Lord with all your heart and to proclaim the Gospel with courage.
Olive Tree Places of the Bible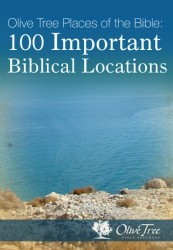 With careful research and many Scripture references, Olive Tree's Places of the Bible is an invaluable resource for Bible study. Listed alphabetically, the places included in this resource range from Old to New Testament, from Greco-Roman cities like Alexandria to the Old Testament stronghold of Canaan to the Apostle Paul's hometown of Tarsus. The descriptions for each city include a brief history of the place or city mentioned and its relevance to the biblical text.
This resource is best utilized in BibleReader's Resource Guide. While reading 2 Chronicles 36 I came across "Babylon" and was curious about the significance of this place in the biblical text. I highlighted the word "Babylon" in verse 18 and then selected 'Look Up Babylon.' From there, a list of resources on Babylon appeared in a pop-up window, including an article from Olive Tree's Places of the Bible. After reading the article, my understanding of the passage was greatly enhanced because the article provided me with history of the Israelites' exile to Babylon and parallel texts in both the major and minor Prophets.
We encourage you to try Olive Tree's excellent study tool on the places of the Bible to learn more about both the chronology and geography of the Bible. You can find a free sample of this resource here.
We pray these resources give you a deeper understanding of faith in Christ and of the richness of God's Word.