Just Give Me Jesus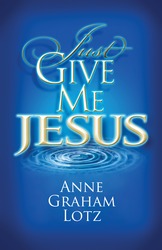 To know the stories behind the authors of devotionals like Anne Graham Lotz' Just Give Me Jesus gives new depth of meaning to the written work. Today, we take a peek into the life of one of the daughters of the world's most famous evangelist, Billy Graham.
Anne Graham Lotz, Billy Graham's second daughter, is a powerful force for God's Kingdom in her own right and was even called "the best preacher in the family" by her father. But Anne's road to ministry was an uphill battle. She married early and had her first child at age 20. Several years later, Anne was struggling with depression as she cared for three small children and wrestled with her role as a stay-at-home mother. She wanted an opportunity to serve the Lord outside the home.
In 1975, God revealed an opportunity for Anne to lead a Bible Study Fellowship (BSF) group at her church in Raleigh, North Carolina. Though some disapproved of her choice, it quickly became clear, when the audience numbered 300 and counting, that Anne had found her niche.
After 12 years of ministry with BSF, Anne began to receive speaking requests both nationally and internationally and was shaped by other women in ministry, including Audrey Wetherell Johnson, the founder of BSF. Since then, Anne has started a non-profit called AnGeL Ministries, formed from her initials AGL, whose mission is to "give out messages of biblical exposition so that God's Word is personal and relevant to ordinary people." Anne's ministry includes numerous speaking engagements and writing devotional books. Olive Tree has four of Anne's books, including The Vision of His Glory, Just Give Me Jesus, Heaven: My Father's House, and God's Story, which will be on sale at OliveTree.com later this week in honor of Mother's Day.
In Just Give Me Jesus, Anne longs for her readers to know God and reflects on her own life-long journey to know Christ:
"I am growing in my knowledge of God, and I say without hesitation or qualification that knowing God is my joy and reason for living. He is…
the Wind beneath my wings,
the Treasure that I seek,
the Foundation on which I build,
the Song in my heart,
the Object of my desire,
the Breath of my life—
He is my All in all!"
Encouraged by Anne's example, may Jesus also be our all in all!
This entry was posted by Elizabeth on May 8, 2012 at 9:28 am, and is filed under Inspiration, Uncategorized. Follow any responses to this post through RSS 2.0.Both comments and pings are currently closed.