Bible Handbook: A Companion for Reading Plan
We're a week into the Olive Tree Summer Bible Reading Plan, and we've been reading the stories of Adam and Eve, Abraham, Isaac, and Jacob, Joseph, Moses, and the striking account of the power of God in the Exodus of the Israelites from Egypt.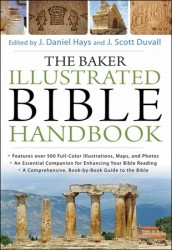 These stories remind us that our individual stories fit into God's overarching plan of redemption. Our intention with the Reading Plan is to throw you headlong into the full biblical narrative. The authors of the Baker Illustrated Bible Handbook also want to bring your story in line with God's story.
An excellent companion to the Olive Tree Bible Reading Plan, the Baker Illustrated Bible Handbook is split into three sections:
The first section explores the Bible's organization, explains the basics of each book of the Bible, and gives a cultural and historical framework for the Old and New Testaments.
The second section deals with the inspiration of Scripture and the steps taken to bring Scripture into the form we know it today. Topics explored in this section include the New Testament canon, the Dead Sea Scrolls, Bible translation, and more.
The third section of the Handbook addresses how we use and understand the Bible, including information about literary features in the Bible, archeology in the Bible, and issues of authorship.
There is something new for every student of Scripture. This invaluable resource will give you a broader and deeper understanding of the historical and cultural roots of God's Word. At the same time, the Word of God transcends time and space in its message. Yesterday, today and forever, the Good News is that God in Christ "proclaim(s) good news to the poor…, liberty to the captives and recovery of sight to the blind, to set at liberty those who are oppressed, to proclaim the year of the Lord's favor" (Luke 4:18-19).
Download the Olive Tree Summer Bible Reading Plan today for free here by logging into your Olive Tree account. After today, the Reading Plan will be sold for 99 cents.