Bonhoeffer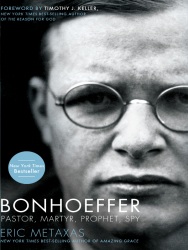 When I started working at Olive Tree over a year ago (I can't believe it's been that long!), I worked on the content craftsmen team. For my first project, I was given an eBook, more specifically, Eric Metaxas' Bonhoeffer: Pastor, Martyr, Prophet, Spy, and asked to format it for the Olive Tree apps.
I was lucky to get an eBook because the formatting is simple, but this eBook presented me with the special challenge to stay on task. I often found myself stalled on a particular section, not because it had complicated formatting, but because the writing had pulled me in and distracted me from my work. I have since moved to the marketing department (which might be for the best considering how long it took me to format this book) and decided I should read the whole of Metaxas' Bonhoeffer. Here are my thoughts on the book:
It is Well Written
Dietrich Bonhoeffer is well known for his writings like The Cost of Discipleship and Life Together and many have even heard of his anti-Naziism. Metaxas goes beyond the Bonhoeffer that we've heard of, covering a lot of ground while still taking time on the little details that leave you feeling like you know Bonhoeffer personally. The passion and excitement Metaxas brings to this biography is evident. His writing is engaging and moves quickly. I thoroughly enjoyed reading the biography and found myself getting lost in Metaxas' captivating prose.
It is Comprehensive
Metaxas has definitely done his research. One reviewer even refers to Metaxas' book as "weighty." Having the eBook version, I can't comment on the heftiness of the book, but you definitely get an in-depth look at the life of Bonhoeffer. That being said, while Metaxas is heavy on the details of Bonhoeffer's life, some critics believe he misses the mark in the discussion of Bonhoeffer's theology. Metaxas gives us an evangelical Bonhoeffer where many scholars argue there isn't one. I find myself agreeing with Tim Challies on the subject:
[Scholars] may well be right in suggesting that Metaxas got in over his head; and they may be right in suggesting that the true Bonhoeffer was simply too unorthodox to appeal to the likes of me—the kind of person who read, enjoyed and enthusiastically recommended the book. Having said that, I think that some caution is in order. Scholarship can bring dimness just as it can bring clarity.
I connected with Metaxas' Bonhoeffer and was inspired by this biography. Maybe Metaxas glosses over the more complex parts of Bonhoeffer's theology, but luckily for me I am neither a scholar nor a theologian so I wasn't bothered by the critical remarks. I read the book and saw a man who stood up when many cowered to an oppressive and evil regime. In my opinion, that is what makes Bonhoeffer worth the space on my [virtual] bookshelf.
It is Inspiring
Reading Bonhoeffer left me asking myself what I've done to live out my faith lately. As Metaxas put it:
This is a man for whom there is no daylight between what he says he believes and his life. That's the point. It's not about what you say and what you believe. The question is do you really believe it? Are you living it? You can't fool God with good theology. – From The Christian Post
I would like to think that had I lived in Germany during the Nazi regime I would have jumped at the chance to act in opposition to Hitler's evils. But the more I think about it, the more I wonder. There are plenty of evils that our world is facing today. How can I be a Bonhoeffer against the evils of human trafficking, poverty, religious and racial persecution and more?
Final Thought

Read Eric Metaxas' book with discernment, but do read it. Don't take this biography to be the definitive work on Dietrich Bonhoeffer as I don't believe that was Metaxas' aim in writing it. Read it and be inspired by the life of a man who felt his faith was meant to be lived and went and did just that. And then, as Jesus says in Luke 10:37, "Go and do likewise" (NIV).