Coming Soon – My Daily Pursuit – by A.W. Tozer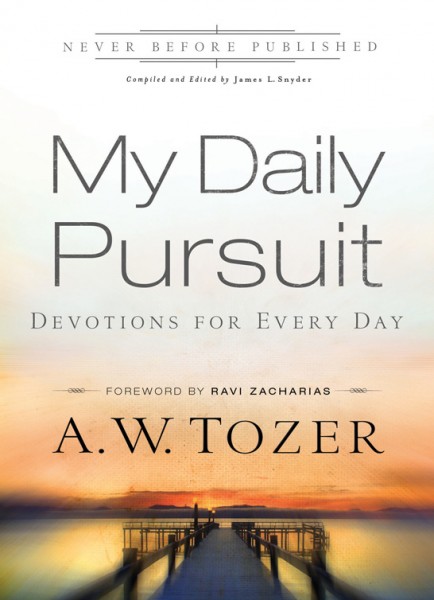 Now Available for The Bible Study App! - My Daily Pursuit – A Daily Devotion based on the writings of A.W. Tozer.
Thanks to the careful curation of James L. Snyder, a pastor in Tozer's church denomination who has exclusive access to a treasure trove of unpublished Tozer content, we have Tozer's teachings on a vast number of topics. And now, for the first time, there is a new daily devotional featuring never-before-published content. The famed evangelist Leonard Ravenhill, who knew Tozer personally, said, "To enter into Dr. Tozer's presence was an awe-inspiring event." Now, with My Daily Pursuit, readers will be able to do even more as they enter into the presence of Jesus every day through this awe-inspiring book.
To celebrate this upcoming release we will be highlighting a few sneak peeks into this new work. Here is the first excerpt:
January 10
O satisfy us early with Thy mercy; that we may rejoice and be glad all our days. - Psalm 90:14
One delightful aspect of reading the Bible is finding people who are utterly fascinated with God. Reading through the book of Psalms stirs the heart as we experience one man's fascination with God.
Wherever God is known by the Spirit's illumination, there exists a fascination and a high degree of moral excitement. That fascination is captured and enhanced by the presence and person of God. It is struck with astonished wonder at the inconceivable elevation and magnitude and splendor of God.
I want to begin with God and end with God. I want to know that I will have an end with God because there is no end in God. This fascination, this sense of worship is where hymns come from. Hymns come out of this sense of admiration and fascination with God.
I want to be charmed and struck with wonder at the inconceivable elevation and magnitude and moral splendor of that One I call "our Father which art in heaven."
Love divine, all loves excelling,
Joy of heav'n, to earth come down!
Fix in us Thy humble dwelling;
All Thy faithful mercies crown!
—Charles Wesley (1707–1788)
Thy love, O God, fills me with rapturous delight at the very thought of it. Meditating upon Thy love creates in me the dissatisfaction for this world. Come, Lord Jesus, come. Amen.
Check out this new title, and other A.W. Tozer works here: https://www.olivetree.com/store/home.php?cat=259&authorid=1686