My Daily Pursuit – Second Excerpt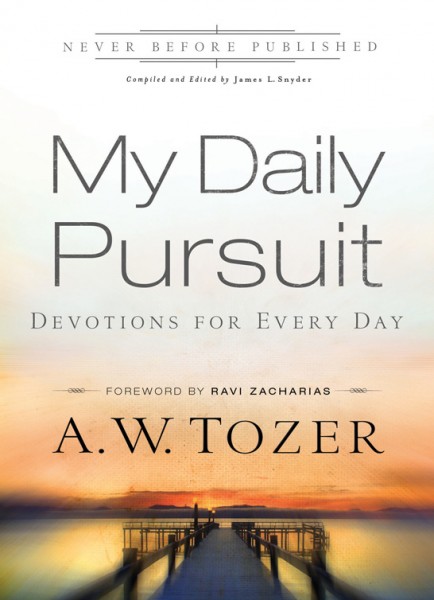 Coming soon to The Bible Study App – My Daily Pursuit – A Daily Devotion based on the writings of A.W. Tozer.
Thanks to the careful curation of James L. Snyder, a pastor in Tozer's church denomination who has exclusive access to a treasure trove of unpublished Tozer content, we have Tozer's teachings on a vast number of topics. And now, for the first time, there is a new daily devotional featuring never-before-published content. The famed evangelist Leonard Ravenhill, who knew Tozer personally, said, "To enter into Dr. Tozer's presence was an awe-inspiring event." Now, with My Daily Pursuit, readers will be able to do even more as they enter into the presence of Jesus every day through this awe-inspiring book.
To celebrate this upcoming release we will be highlighting a few sneak peeks into this new work. You can read the first excerpt here.
Here is the second excerpt:
January 15
Give unto the Lord, O ye mighty, give unto the Lord glory and strength. Give unto the Lord the glory due unto his name; worship the Lord in the beauty of holiness. Psalm 29:1-2
We were born to worship. If we are not worshiping God in the beauty of holiness, we have missed our reason for being born. I embrace the idea that worship is the delightful, awesome, humbling, wonderful experience that we can have in varying degrees. It does not take a building to create worship.
If you burn down the church building and drive away all the people, you have not disturbed Christian worship at all. Keep a Christian from entering the church sanctuary and you have not in the least bit hindered his worship. We carry our sanctuary with us. We never leave it.
We do not enter into a building and then commence to worship. If you are not worshiping God on Monday morning, as you worshiped him the day before, perhaps you are not worshiping Him at all.
When Christians lose their love for God, they become sick. The lack of worship as a natural, spontaneous and continual thing is a sure sign of spiritual sickness. One generation lets this slip a little; it affects the next generation and the next until there is no real, overwhelming desire to worship God.
Then worship has to be created from the outside; but that is never true worship.
Let all mortal flesh keep silence,
And with fear and trembling stand;
Ponder nothing earthly minded,
For with blessing in His hand,
Christ our God
To earth descendeth,
Our full homage to demand.
—Fourth Century Greek, English trans. by Gerard Moultrie
Dear God, I come before you in fear and trembling and experience You as You long to share Yourself. Let me know you in the beauty of Thy blessed holiness. Amen. 
The anticipated release date for this new work has been set for November 4th.  Stay tuned to our blog or subscribe to our newsletter to stay up to date.