My Daily Pursuit – Third Excerpt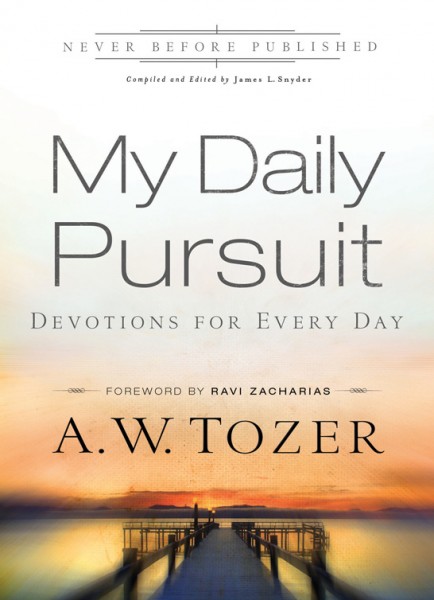 Coming soon to The Bible Study App - My Daily Pursuit – A Daily Devotion based on the writings of A.W. Tozer.
Thanks to the careful curation of James L. Snyder, a pastor in Tozer's church denomination who has exclusive access to a treasure trove of unpublished Tozer content, we have Tozer's teachings on a vast number of topics. And now, for the first time, there is a new daily devotional featuring never-before-published content. The famed evangelist Leonard Ravenhill, who knew Tozer personally, said, "To enter into Dr. Tozer's presence was an awe-inspiring event." Now, with My Daily Pursuit, readers will be able to do even more as they enter into the presence of Jesus every day through this awe-inspiring book.
To celebrate this upcoming release we will be highlighting a few sneak peeks into this new work. You can read the first excerpt here and the second here.
Here is the third excerpt:
January 18
Make a joyful noise unto God, all ye lands: sing forth the honour of his name: make his praise glorious. Psalm 66:1-2
One thing difficult to comprehend is that God is unaffected by the attributes of matter. Weight, size and space do not affect Him. All of these things affect us in varying degrees, and our error is in assuming that whatever affects us must affect God. We have a natural tendency to try to bring God down to our level.
The more one gets to know God and understand His nature, the more one begins to wonder at the immensity of God. He is bigger than anything we could ever comprehend. A well-taught Christian will know that the God he worships is not affected by any of the things affecting us.
This is good to know. If God was influenced by what influences me, how could I worship Him? How could I confidently trust Him if He was affected by the same things that affect me?
As I wallow in my mortality, I look up in wondrous joy at Him who is immortal, invisible, God only wise, knowing that He has invited me to share in His nature.
Oh, how I love Jesus!
Immortal, invisible, God only wise,
In light inaccessible hid from our eyes,
Most blessed, most glorious, the Ancient of Days,
Almighty, victorious, Thy great name we praise.
—Walter C. Smith (1824–1908)
Dear Father in heaven, I love Thee with a love rooted deeply in the heart of Thy dear Son, even the Lord Jesus Christ, our Savior. The more I love Thee, the more I rest in peace with myself. Amen.
The anticipated release date for this new work has been set for November 4th.  Stay tuned to our blog or subscribe to our newsletter to stay up to date.