My Daily Pursuit – Fourth Excerpt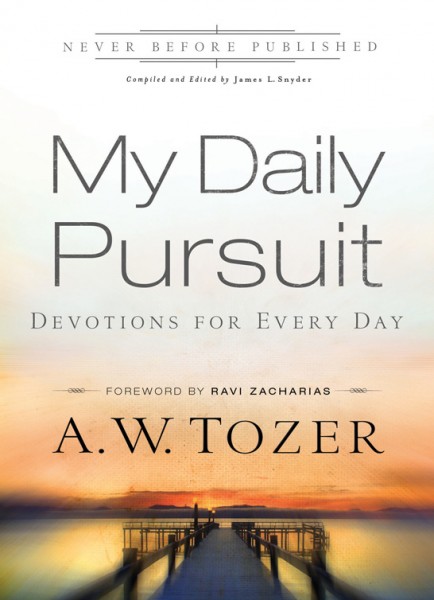 Coming soon to The Bible Study App - My Daily Pursuit – A Daily Devotion based on the writings of A.W. Tozer.
Thanks to the careful curation of James L. Snyder, a pastor in Tozer's church denomination who has exclusive access to a treasure trove of unpublished Tozer content, we have Tozer's teachings on a vast number of topics. And now, for the first time, there is a new daily devotional featuring never-before-published content. The famed evangelist Leonard Ravenhill, who knew Tozer personally, said, "To enter into Dr. Tozer's presence was an awe-inspiring event." Now, with My Daily Pursuit, readers will be able to do even more as they enter into the presence of Jesus every day through this awe-inspiring book.
To celebrate this upcoming release we will be highlighting a few sneak peeks into this new work. You can read the first excerpt here, the second here, and the third here.
Here is the fourth excerpt:
January 20
I am the Lord thy God, which brought thee out of the land of Egypt: open thy mouth wide, and I will fill it. Psalm 81:10
A potter sets about to make a beautiful teapot; and while it is spinning on the wheel, he runs into some problem, and it falls apart. It is broken and not useful anymore, and it does not look like a teapot. It has no artistry, and the soul of the artist is not in it, and cannot be in it, because it has broken. For the potter, however, it is a simple matter to take up that material again, take out the offending parts and fashion it into another vessel.
He could not do that if he was working with iron or a rock. But he can do it with the clay, because clay is the material with which he works. It was broken the first time, but he can restore it using the same material.
God made us in His image; and while we are not altogether clear about what that image of God is, I know that the human soul is like God. In succumbing to the temptation that took place in the Garden, man fell apart; he lost the artistry, the beauty and the holiness of God. He did not lose the potential to become godlike again if he got into the hands of the Divine Artist.
Redemption is taking on the material of fallen man by the mystery of regeneration and sanctification and restoring it again so that he is like God and like Christ. Redemption is not just saving us from hell, although it does that; it is making us so that we can be like God again.
Have Thine own way, Lord!
Have Thine own way!
Thou art the Potter,
I am the clay.
Mold me and make me
After Thy will,
While I am waiting,
Yielded and still.
—Adelaide A. Pollard (1862–1934)
Dear heavenly Father, I yield to the pressure of Thy touch as you make me into that vessel most pleasing in Your sight. In Jesus' name, amen. 
The anticipated release date for this new work has been set for November 4th.  Stay tuned to our blog or subscribe to our newsletter to stay up to date.