Posted by Monty Galloway on 05/01/2014 in: Look Inside, On Sale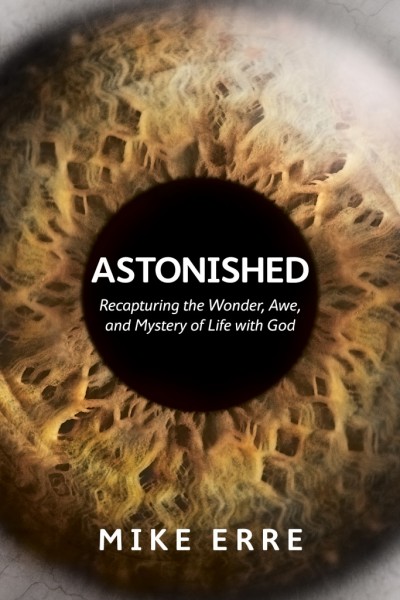 We're trilled to announce the release of a new title to The Bible Study App: Astonished: Recapturing the Wonder, Awe, and Mystery of Life with God by Mike Erre.  In Astonished, Pastor Mike Erre calls Christians away from simplistic formulas to honest and rugged faith in the mysterious and unpredictable God.
Here's an excerpt from Chapter 8 of this brand new title:
The disciples give me a great deal of hope. They weren't particularly bright or faith-filled or quick to learn; they were, in the words of Luke, "unschooled, ordinary men" who were consistently rebuked for missing the point of Jesus's teaching and ministry. At one point in His ministry, however, they got it. Jesus had just asked them who they thought He was. Peter, responding for the group, said that Jesus was the promised Christ, the one the Jews had been waiting for. Jesus affirmed His words and pointed out that Peter didn't come to this conclusion on his own but that this had been revealed to him from heaven. But then Jesus did something quite interesting—He commanded them to tell no one who He was. Why? You'd think it was at that point in His ministry he'd want people to know.
The reason Jesus commanded silence was that though they had figured out He was the Messiah, they had no idea what His messiah-ship entailed:
From that time on Jesus began to explain to his disciples that he must go to Jerusalem and suffer many things at the hands of the elders, the chief priests and the teachers of the law, and that he must be killed and on the third day be raised to life.
Peter took him aside and began to rebuke him. "Never, Lord!" he said. "This shall never happen to you!"
Jesus turned and said to Peter, "Get behind me, Satan! You are a stumbling block to me; you do not have in mind the concerns of God, but merely human concerns."
Then Jesus said to his disciples, "Whoever wants to be my disciple must deny themselves and
take up their cross and follow me. For whoever wants to save their life will lose it, but whoever loses their life for me will find it. What good will it be for someone to gain the whole world, yet forfeit their soul? Or what can anyone give in exchange for their soul? (Matt. 16:21–26)
The minute the disciples understood Jesus to be the Messiah, He revealed to them that He must suffer. But this violated the number- one rule in the Messiah playbook—messiahs don't suffer and die. Crucifixion is what happened to failed messiahs. In the Jewish con- ception of God's rescuer, the Messiah was to restore Israel's fortunes through the defeat of Rome and the gentile nations. This was so offensive to Jewish sensibilities that Peter took it upon himself to rebuke Jesus.
On at least three separate occasions, Jesus told His followers to be prepared for His suffering at the hands of gentiles. It was impossible for them to grasp what He had in mind, so He used the image of His impending crucifixion as picture of what was expected of those who will follow Him. "Taking up [one's] cross" was a renunciation of one's rights in the first century. Only criminals would take up a cross in Jewish society. Your friends and family would be dead to you. Your life as you had known it was over. Jesus calls His followers to carry their crosses as he carried His. For some of His earliest followers, that meant a literal martyr's death. For most of us, that death won't be so literal, but it is true regardless. To follow Jesus is to prepare yourself to die.  Your self, your privileges, your entitlements—all are surrendered in order to follow Christ. We think the cross is the place where Jesus died. But is a place where we die too. The self must die. That doesn't mean you lose your personality or cannot enjoy anything. It means your desires don't rule you any more. They are submitted to something bigger.
But we are consumers at heart; our lives are built on the foundation of self-indulgence and gratification. "What do I want?" and "What do I need?" are the twin questions that drive us. Jesus summons us to abandon the project of finding life through what Jesus calls the "self "—the way of living characterized by exalting self, glorifying self, promoting self, all in the strength of self—that project must be put to death in order to follow Jesus. What has to die is every impulse to assume authority and control over our own lives.
Jesus wants us to surrender our lives to Him and follow Him into the unknown. And if it means a life of suffering, hardship, and disappointment, it will be worth it, because following Him is better than living with everything in the world minus Him. That is what it means to say that He is the treasure. Have we become so refined and civilized that the benefits of our faith have become more precious and more valuable than Jesus Himself?
Faith in Jesus demands surrender. There is no other way around it. The path to the life Jesus offers is cross-shaped. To receive His gift, we must release our grip on everything else. The gift is free, but it costs us everything.
Mike Erre is the lead pastor of the First Evangelical Free Church of Fullerton (evfreefullerton.com).