Posted by Guest Blogger on 05/09/2014 in: Look Inside, On Sale
Voice of a Prophet is the 11th title in a series of best selling trade books compiled and edited by James Snyder, today's leading authority on the life and writings of A.W. Tozer and includes never-before-published content based on the teachings of Tozer.  Here's a brief introduction to this new work by the compiler and editor, James L. Synder.
From Guest Blogger and Editor:  James Snyder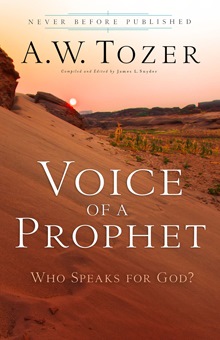 One great concern of Dr. A.W.Tozer, addressed in this new book, has to do with the condition of the church. He loved the church and consequently was deeply concerned at the direction it was going.
Although he died in 1963, he had a prophetic view of where the evangelical church in particular was heading. And it disturbed him. Everything he said about the church seems to have come true.
The responsibility for this decline in the church today, according to Tozer, rests upon the gatekeepers. Or, as presented in this book, the prophets. The question posed here is simply, where are the prophets? And more pointedly, who is responsible for silencing the prophets in our day?
I think my favorite chapter is chapter 12, "We Need Prophets, Not Promoters." The dilemma that Tozer saw the church facing was choosing between promoters and prophets. Unfortunately, the choice has been the promoters. It is more important to promote the church in such a way as to appease and appeal to the culture around us than to stand up and"earnestly contend for the faith which was once delivered unto the saints" (Jude 1:3).
Throughout the book, Tozer insinuates that the church is always trying to go forward, but when God begins to move He always brings the church back. Back to that place where it started. This is called revival. People want to see revival, or so they say, but they do not want to go through the process of God bringing revival to them.
This matter of being a prophet is not something to be considered lightly. From the introduction, "I think Tozer would agree when I say that those who seem right for the job are not the ones God calls. God chooses a man or a woman who is out of sync with his or her generation. God uses a person, not because he or she fits in, but usually because he or she does not fit in."
A prophet can never be a celebrity. This Tozer emphasizes throughout this book. We are the generation of celebrities and we think that God's work can not survive without a generous share of celebrities.
However, the prophet God uses those not volunteer for the job, but rather is one that God chooses. A man who has been prepared by the world or by worldly standards is not prepared to do the job that needs to be done as a prophet of God. This book emphasizes this thing.
The book is an exploration into what G.K.Chesterton said; it is "the paradox of history that each generation is converted by the saint who contradicts it most." And the celebrity never contradicts but rather conforms. This was an odious concept to Dr.Tozer. The world needs to be contradicted if it is to be brought to a place of knowing God.
I think to truly appreciate this book and what Dr.Tozer has to say, it is important to prayerfully read his "The Prayer of a Minor Prophet. Not only does this set the tone for the entire book, but it helps to understand a little bit about Dr.Tozer as a prophet to the evangelical church.
This is not Tozer saying something profound to the church. This is Tozer delivering to the church a message that needs to be not only heard but also put into radical practice. Every prophet is radical, radically committed to the concepts God laid down as the foundation for His Church.
It is my prayer that in reading this book, one will come under the awesome burden for the church today that Tozer had. And if we do not have men and women who are utterly committed to God and His message to the church, the church does not stand a chance of surviving.