Posted by LaRosa Johnson on 08/31/2017 in: Look Inside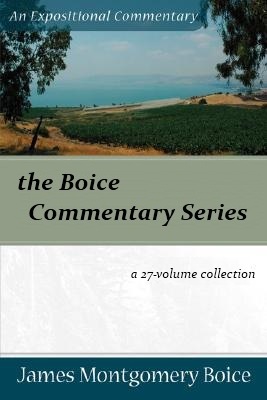 Pastors have a hard job. They get in front of their congregations every week and preach a word from the Lord. They do this with the hope of impacting lives and saving souls. To accomplish this goal the preacher must do two things: 1) explain the text, and 2) relate the text. What can a preacher do to aide in the application of Scripture both to himself and others? The same question can also be asked of those engaged in personal Bible study. This is where a resource like the Boice Expositional Commentary Series is handy. It helps preachers, teachers & students of the Bible understand their passage while providing applicable truths & illustrations.
Let's look inside the Boice Expositional Commentary Series and see how it works in the Olive Tree Bible App.
Resource Guide
Like any enhanced resource you purchase for the Bible App, the Boice Expositional Commentary Series is built to work hand-in-hand with the Resource Guide. As you read the Bible, the Resource Guide follows along and shows you resources with relevant content. In the screenshot below you can see we have a hit in the commentary section for Boice's Commentary. Since I'm currently studying Jesus' prayer in John 17, I can quickly see what this commentary says without having to find the commentary in my library and manually open it to my desired location. Not only do I save time, but I get the information I need with minimal effort.
The Commentary
One thing I appreciate about the Boice Expositional Commentary Series is it reads like a devotional or sermon. Instead of getting caught in the nuances of the text that may not help you teach or better understand a passage, the commentary keeps an eye on explaining the things that matter. The series combines careful scholarship and clear communication in a verse-by-verse and section by section reading of the books of the Bible it covers. Combining thoughtful interpretation with contemporary insight for daily living, Boice explains the meaning of the text and relates the text's concerns to the church, Christianity, and the world in which we live. Whether used for devotions, preaching, or teaching, this authoritative and thought-provoking series appeals to a wide range of readers, from serious Bible students to the interested everyday Christian.
Add it Today
The Boice Expositional Commentary Series is a perfect companion for the pastor or Bible student who wants to dig into the Bible and apply it. Add this commentary series to your Olive Tree library today. Also be sure to check out the other titles we have on sale!