Posted by Cierra Loux on 01/22/2018 in: Bible Study Articles
One of the most popular ways of reading the Bible is to open up a familiar passage, read over it quickly, and then move onto something else. When we don't take time to ponder Scripture and ask questions, we miss out on discovering truth.  By slowing down, we can be convicted, encouraged, and strengthened in new ways.
The Exhaustive Questions Bible study method is a great option for solving this problem. Here's some instructions we found inside Andy Deane's Learn to Study the Bible. We've also included helpful tips on how to use this method without leaving the Olive Tree Bible App (available on iOS and Android devices).
1) CHOOSE A CHAPTER & READ IT 3x
This isn't a race to see how fast you can read the passage! Slow down. Take in each word. Think critically about what you are reading.
2) WRITE DOWN 3+ QUESTIONS FOR EACH VERSE
This sounds like a lot… because it is. But it's worth it! Ask questions about everything and anything. You won't need to answer all of them, so don't worry about that. Write down as many as you can think of so that you get in a rhythm. It will help you to eventually ask unique questions you might have not thought to ask otherwise.
3) RESEARCH 5 QUESTIONS FROM THE CHAPTER
Now, look over all your questions. Which five stand out to you the most? Are there any words or phrases you don't understand? What about people and places you've never heard of before? These questions might be the best ones to spend your time on.
A Strong's Tagged Bible gives us a hint!
4) FIND THE ANSWER!
Do your best to find the answer. Most likely, you're going to need some tools to help you! Here are a few ideas to get you started:
Cross-References: The best way to interpret the Bible is with the Bible. Use this tool to quickly find other passages that discuss what you're already reading.
Strong's Tagged Bibles: Perfect for fast word studies, use this resource to tap and discover not only the original meaning of the word you're questioning, but also where else it is used in the Bible.
Commentaries: In-depth historical, archaeological, and grammatical information provided verse-by verse.
Bible Handbooks: These are like commentaries, but much more concise, providing you with information on archaeology, related historical data, church history, maps, and more.
Peers: Build healthy community by discussing your Bible study time with your friends. Maybe they have insight you haven't heard before!
Pastor: Find someone you consider to be wise, whether that's a pastor or even a mentor. Ask them for their input!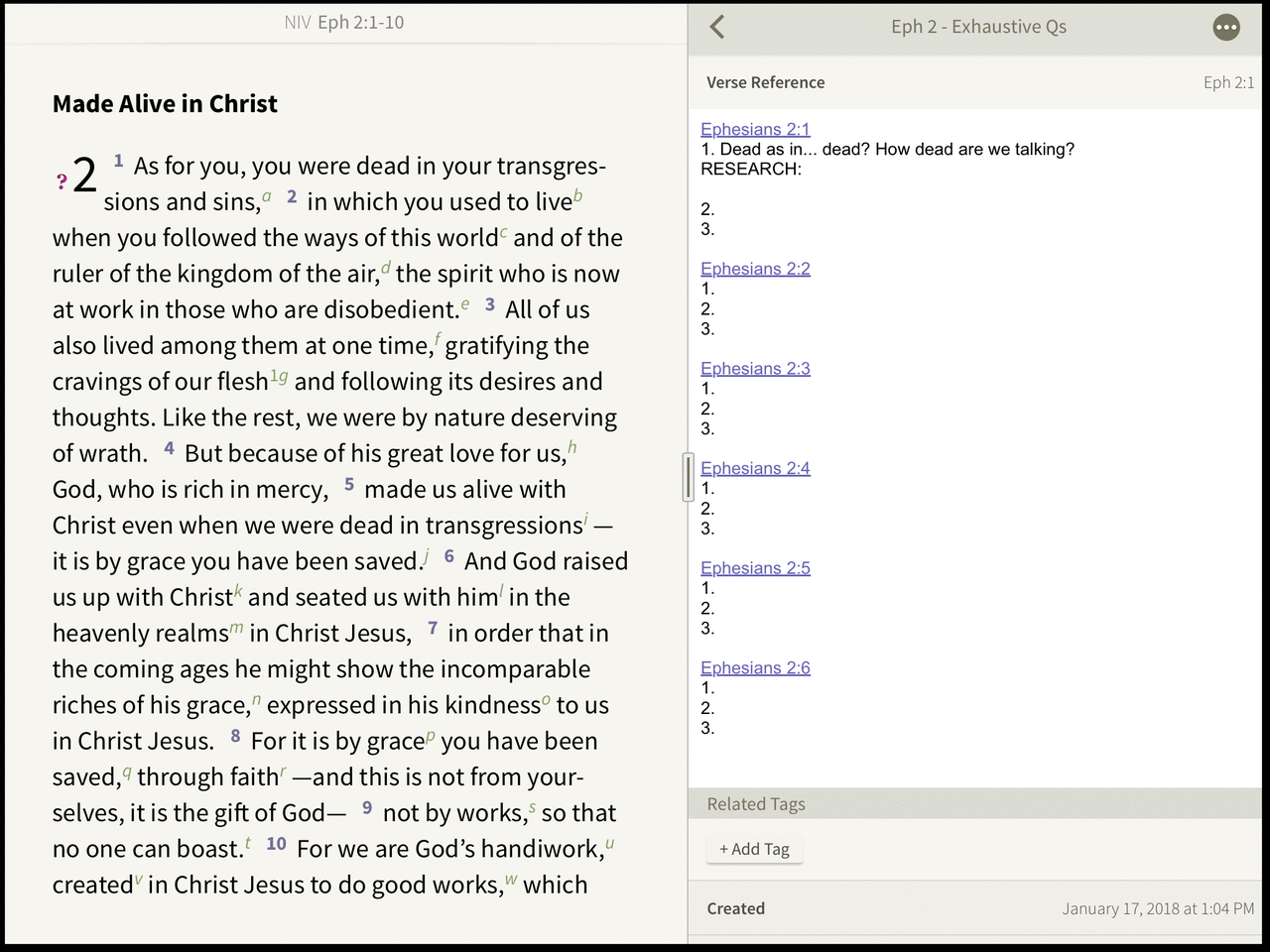 5) APPLY THE ANSWER

After answering five of your questions, choose one to turn into a life application. Sometimes, it is as simple as meditating on a truth about God's character.
6) TELL SOMEONE
Don't keep this to yourself! Bring up what you've learned with a friend or relative. Start a discussion that will hopefully lead to even more encouragement and spiritual growth.
GET THE OLIVE TREE BIBLE APP
Stop skimming the Bible and start using these easy methods inside the app. The Olive Tree Bible app comes with tons of resources to get you consistently studying God's Word: verse of the day, reading plans, study Bibles, commentaries, dictionaries, and more.