Elizabeth
Posts by Elizabeth
When I was a sophomore in college, I took an Old Testament Survey class in which we read the entire Old Testament in one semester. I remember reading the syllabus during our first class and balking at some of our homework assignments. Read Psalms 76-150 for Wednesday's homework. Read Isaiah for Friday. Yes, that's right. Read all of Isaiah.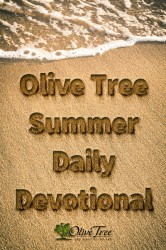 Without a doubt, the volume of reading that semester was a challenge. But in hindsight, I am thankful for the lightning-speed pace with which we moved through the Old Testament because it revealed an overarching narrative to the Bible that I'd never noticed. There is a profound continuity between the Old and New Testament. God really is "the same yesterday and today and forever" (Hebrews 13:8) and his desire is for the salvation of all people, first for the Jew and also for the Gentile (Romans 1:16).
When we were discussing overarching themes for the summer here at Olive Tree, we got hooked on this idea of reading through parts of the whole Bible in one summer. Rather like New Year's, summer carries its own set of resolutions and to-dos. We invite you to make Olive Tree's Summer Bible Reading Plan your goal for the summer.
Here's the lowdown on reading plan:
The reading plan organizes the Bible's 66 books into eight literary genres: Law, History, Poetry, Major Prophets, Minor Prophets, Gospels and Acts, Paul's Letters, and the General Letters/Revelation.
Each genre and book of the Bible includes a succinct introduction written by Olive Tree staff members that will help both mature and new Christians understand the basic historical context and themes.
The plan's dates are from June 1 to September 11. In most cases, you'll be reading several chapters a day.
The plan will be available as a free download until Friday, June 8. After that, it will be available at OliveTree.com for 99 cents.
Olive Tree is excited to help you dive into the Word of God. Our end goal for the Summer Reading Plan is that you become so steeped in God's story that it begins both to define and transform your life.
"Let your roots grow down into [Christ Jesus], and let your lives be built on him. Then your faith will grow strong in the truth you were taught, and you will overflow with thankfulness." (Colossians 2:7, NLT)
Elizabeth's RSS Feed