On Sale
4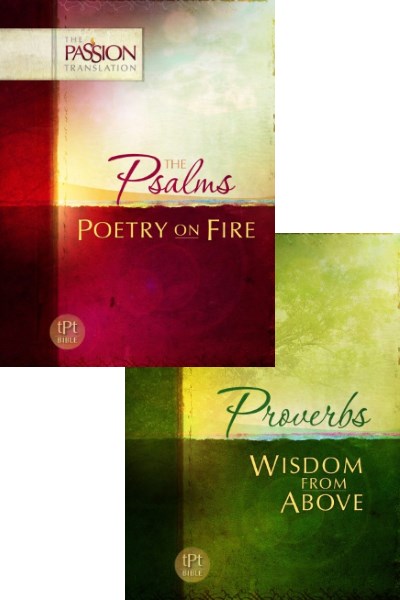 From Guest Blogger: Dr. Brian Simmons, Lead Translator for The Passion Translation
God Is Passionate and Poetic.
It may surprise some of us to hear God described this way, as passionate and poetic. Yet the heart of God is filled with holy longings, passions which he expressed in creation and through redemption. And we would never discover such passions completely without the gift of God's poetic Word, spoken to us in our own language. The Passion Translation is committed to translating the Word of God with all of its poetic nuance, flavor, passion, and truth—without compromising accuracy in any way. It expresses God's passion for people and His world by translating the original, life-changing message of God's Word for modern readers; it is every bit reliable as it is relevant.
God's Word is potent, it has power to transform lives. As you read the Bible in this new, modern English version, expect to be delighted by The Passion Translation with new insights and a fresh understanding of all that God wants to say to our hearts. This is a heart-level translation, from the passion of God's heart to the passion of your heart. Written by passionate men, the Bible is unlocked and understood more fully when passionate people read it.
God is a Poet—the Poet of Poets.
I'm so thankful for the poetic books found in the middle of our Bible. There is something about the Psalms and the Proverbs that keep our lives fueled with praise and guided by wisdom. It would be hard to imagine the Word of God without poetry, parables, and proverbs, because they unfold an entirely different dimension of the wonderful heart of God!
I have cherished the Psalms for over four decades. I contemplate them almost daily, for they have been my comfort and joy, leading me to the place where worship flows. When discouraged or downcast, reading these divine poems has given me new strength. They charge my batteries and fill my sails. In fact, the older I get the more powerful they grow: their thunder stirs me; their sweet melodies move me into the sacred emotions of a heart on fire like never before! The dark rain clouds of grief turn to bright rainbows of hope, just from meditating on David's soul-nourishing songs.
The Psalms find the words that express our deepest and strongest emotions, no matter what the circumstances. Every emotion of our heart is reflected in the Psalms. Reading the Psalms will turn sighing into singing, trouble into triumph. The word praise is found 189 times in this book. There is simply nothing that touches my heart like the Psalms. Thousands of years ago my deepest feelings were put to music—this is what we all delightfully discover when reading the Psalms!
God's Wisdom Is a Fountain—Come, Drink Freely!
Then there are the divine words of wisdom from Solomon, the book of Proverbs, written by the wisest man (well, maybe second wisest man) to ever walk the earth! Imagine reading a 2800-year-old book of wisdom: How many secrets would be uncovered? What kind of wisdom would be revealed? How would your life change as you drank in its advice? That's Proverbs! These powerful words are anointed to bring you revelation from the very throne room of God—the wisdom you need to guide your steps and direct your life.
When you read Psalms and Proverbs, you're engaging your heart and mind with the greatest book of wisdom and the greatest book of praise ever written, penned by two kings full of sage advice and God's favor. God has given away his secrets in these books and he longs for you to read and receive them deep within. The Passion Translation seeks to express them in a way that would unlock the 'passion' of God's heart, change your life, and launch you into the kind of life God has destined for you.
Dr. Brian Simmons is a former missionary, linguist, minister, and Bible teacher. As a missionary, he and his wife, Candice, pioneered church plants in Central America. As a linguist, Brian co-translated the Kuna New Testament for the Paya-Kuna people of Panama. He and his wife have birthed numerous ministries, including a dynamic church, Gateway Christian Fellowship, in West Haven, Connecticut. He is also a gifted teacher of the Bible who has authored several books and serves churches worldwide through his teaching ministry.