Posts tagged
Christian Books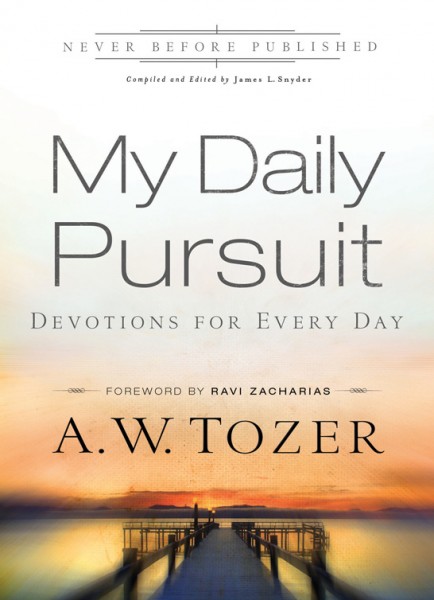 Coming soon to The Bible Study App - My Daily Pursuit – A Daily Devotion based on the writings of A.W. Tozer.
Thanks to the careful curation of James L. Snyder, a pastor in Tozer's church denomination who has exclusive access to a treasure trove of unpublished Tozer content, we have Tozer's teachings on a vast number of topics. And now, for the first time, there is a new daily devotional featuring never-before-published content. The famed evangelist Leonard Ravenhill, who knew Tozer personally, said, "To enter into Dr. Tozer's presence was an awe-inspiring event." Now, with My Daily Pursuit, readers will be able to do even more as they enter into the presence of Jesus every day through this awe-inspiring book.
To celebrate this upcoming release we will be highlighting a few sneak peeks into this new work. You can read the first excerpt here, the second here, the third here, and the fourth here.
Here is the fifth excerpt:
January 31
So then faith cometh by hearing, and hearing by the word of God. Romans 10:17
Heretics do not necessarily want to teach that there is no Trinity, or that God did not create the universe, and that there is no judgment. The very word "heretic" means one who picks and chooses.
The Samaritans were heretical in that they chose certain parts of the Bible. They had a Pentateuch and accepted it, but they rejected David, Isaiah, Jeremiah, Ezekiel, Daniel, 1 and 2 Kings and the Song of Solomon. They rejected all of Scripture except the Pentateuch.
The Samaritans went one step further: they translated the Pentateuch.
You can translate anything to prove what you are out to prove. All you have to do is say you know Greek or Hebrew, and after that, you are on your own. The Samaritans translated the old Pentateuch in a manner that proved Samaria was a place of worship. Because of that, they were very hostile to the Jews who claimed that Jerusalem was the place to worship.
The Samaritans accepted the Bible, but they just accepted as much of it is they wanted. When you pick and choose, you can believe just about anything.
Remember, it takes all of the Bible to make it the Word of God.
Oh, send Thy Spirit, Lord,
Now unto me,
That He may touch my eyes,
And make me see;
Show me the truth concealed
Within Thy Word,
And in Thy Book revealed,
I see Thee, Lord.
—Alexander Groves (1842–1909)
O Holy Spirit, open my eyes today that I may see that which You have for me. Blind me to those ways that lead me away from Thee. In Jesus' name. Amen.
The anticipated release date for this new work has been set for November 4th.  Stay tuned to our blog or subscribe to our newsletter to stay up to date.