Posts tagged
Inspiration
0
"If you don't know history, then you don't know anything. You are a leaf that doesn't know it is part of a tree. "
-Michael Crichton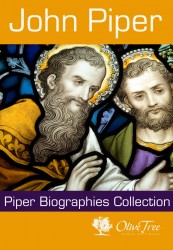 History was likely a subject you studied in school and either loved or hated. In high school, I had an awesome U.S. History teacher who had the class make up what kind of cars America's Founding Fathers would have driven based on personality. Though history might be an obligatory study in school, there's no doubt that history is important, even working its way into popular culture. When I asked my co-workers to think of movies based on history, I got a list a mile long, everything from Titanic to Braveheart. Even Hollywood recognizes the power and importance of history.
The question is: Do Christians recognize the value of our own history? John Piper, a longtime pastor, speaker, and author, gave 15 short lectures at multiple Desiring God pastors' conferences about Christians whose lives exemplified the two Great Commandments.
I would encourage you to download this free resource, called the John Piper Biographies Collection, to read the fascinating histories of fifteen Christian men, from St. Augustine to John Newton, who served Jesus Christ in the midst of persecution, prosperity, widespread heresy, and shifting world powers.
My favorite character in John Piper's collection is Charles Simeon, the pastor of a Cambridge, England church for 54 years in the late 1700 and early 1800s. Simeon was a vibrant evangelical pastor when Cambridge had little evangelical Christian influence and even some persecution.
Students and professors at Cambridge were hostile to Simeon for his vibrant Christian faith. They continuously disrupted church services and spread rumors about him. A professor at Cambridge even scheduled a Greek class on Sunday night specifically to prevent students from attending Simeon's Sunday evening worship services. Even Simeon's congregation was hostile to him at various intervals in his long ministry.
But this is where the true benefit of history comes to play. Simeon's writings give us clues to how he endured a life of persecution and hostility and how we might follow his example. Simeon writes:
"Repentance is in every view so desirable, so necessary, so suited to honor God, that I seek that above all…Here I cannot err. . . . I am sure that whatever God may despise . . . He will not despise the broken and contrite heart."
Simeon's story is only the tip of the iceberg in Piper's Biographies Collection and in the 2,000 years of Christian history in which countless men and women have followed Jesus boldly and loved people fearlessly. Don't miss out on the wisdom and encouragement that history provides.
Happy Independence Day to our American users!
***
For many American Christians, the Independence Day/Fourth of July holiday begs a question: "What is the relationship between patriotism and following Christ?"
This isn't a question only American Christians ponder. There's no doubt that God gives each individual a heritage and an ethnicity. Rooted in human nature is a rich sense of belonging to a particular place. Jesus himself took on flesh in a particular place, first in Bethlehem and then in Nazareth of Galilee. Luke writes "When [Joseph, Mary, and Jesus] finished everything required by God in the Law, they returned to Galilee and their own town, Nazareth" (Luke 2:39, Message).
Supporting one's country with a healthy sense of national pride is in no way antithetical to the Gospel, unless patriotism becomes idolatrous. But our national pride takes its proper place when we, as Charles Haddon Spurgeon wrote, let "Christ…take from us all inclination or power to boast of our national prestige. To me, it is prestige enough to be a Christian–to bear the cross Christ gives me to carry and to follow in the footsteps of the great Crossbearer."
Even for those countries that enjoy extensive personal freedom—Life, Liberty, and the pursuit of Happiness in Thomas Jefferson's 1776 Declaration of Independence language—there are always societal norms that are contrary to the Gospel. The greater freedom for Christians will always found in the knowledge and love of Christ.
As the Apostle Paul writes in 2 Corinthians 3:17-18, "When God is personally present, a living Spirit, that old, constricting legislation [Jewish law] is recognized as obsolete. We're free of it! All of us! Nothing between us and God…and so we are transfigured much like the Messiah, our lives gradually becoming brighter and more beautiful as God enters our lives and we become like him."
Because, fellow Christians, where the Spirit of the Lord is there is freedom.
Born this day in 1834 in Essex, England, Charles Haddon Spurgeon was known as the "Prince of Preachers" and may have preached as many as 10 sermons a week! A prolific writer as well, many of Spurgeon's works remain in print to this day. In honor of his birthday today, here are some inspiring quotes from  this highly influential Christian preacher and writer:
"It is a difficult thing to describe the hour of conversion. It would be easier for my lips to crowd entire poems into one word. It would be easier for my voice to distill hours of melody into a single syllable. It would be easier for my tongue to utter in one letter the essence of the harmony of ages. For the hour of conversion is an hour that surpasses other days of my life as much as gold surpasses dross." – From My Conversion
       "Nobody ever outgrows Scripture; the book widens and deepens with our years."
"We would fain fall down on our faces and worship the Son of God today. It is such a wonder that He should have loved us; and He has done such wonderful things for us and in us that we may still call Him God's unspeakable gift. He is unspeakably precious to our souls. Thou knowest all things, Lord; Thou knowest that we love Thee. May that love bubble up today like a boiling cauldron, may our hearts overflow; and if we cannot speak what we feel, may that holy silence be eloquent with the praise of God." – From Prayers
"If Christ is not all to you He is nothing to you. He will never go into partnership as a part Saviour of men. If He be something He must be everything, and if He be not everything He is nothing to you."
"There are times when solitude is better than society, and silence is wiser than speech. We should be better Christians if we were more alone, waiting upon God, and gathering through meditation on His Word spiritual strength for labor in his service."
"Many a gentleman will live beyond his income, spending more than he has coming in; but there is not a Christian that does that–I mean that lives up to his spiritual income. Oh, no! you have an infinite income–an income of promises–an income of grace; and no Christian ever lived up to his income. Some people say, 'If I had more money, I should have a larger house, and horses, and a carriage, and so on.' Very well and good; but I wish Christians would do the same. I wish they would set up a larger house, and do greater things for God; look more happy, and take those tears away from their eyes." – From Words of Cheer for Daily Life
To read more of Spurgeon's inspiring words, head to our website and browse these and other works by Charles Spurgeon.