Posts tagged
Inspiration
"If you don't know history, then you don't know anything. You are a leaf that doesn't know it is part of a tree. "
-Michael Crichton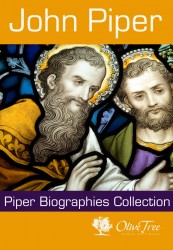 History was likely a subject you studied in school and either loved or hated. In high school, I had an awesome U.S. History teacher who had the class make up what kind of cars America's Founding Fathers would have driven based on personality. Though history might be an obligatory study in school, there's no doubt that history is important, even working its way into popular culture. When I asked my co-workers to think of movies based on history, I got a list a mile long, everything from Titanic to Braveheart. Even Hollywood recognizes the power and importance of history.
The question is: Do Christians recognize the value of our own history? John Piper, a longtime pastor, speaker, and author, gave 15 short lectures at multiple Desiring God pastors' conferences about Christians whose lives exemplified the two Great Commandments.
I would encourage you to download this free resource, called the John Piper Biographies Collection, to read the fascinating histories of fifteen Christian men, from St. Augustine to John Newton, who served Jesus Christ in the midst of persecution, prosperity, widespread heresy, and shifting world powers.
My favorite character in John Piper's collection is Charles Simeon, the pastor of a Cambridge, England church for 54 years in the late 1700 and early 1800s. Simeon was a vibrant evangelical pastor when Cambridge had little evangelical Christian influence and even some persecution.
Students and professors at Cambridge were hostile to Simeon for his vibrant Christian faith. They continuously disrupted church services and spread rumors about him. A professor at Cambridge even scheduled a Greek class on Sunday night specifically to prevent students from attending Simeon's Sunday evening worship services. Even Simeon's congregation was hostile to him at various intervals in his long ministry.
But this is where the true benefit of history comes to play. Simeon's writings give us clues to how he endured a life of persecution and hostility and how we might follow his example. Simeon writes:
"Repentance is in every view so desirable, so necessary, so suited to honor God, that I seek that above all…Here I cannot err. . . . I am sure that whatever God may despise . . . He will not despise the broken and contrite heart."
Simeon's story is only the tip of the iceberg in Piper's Biographies Collection and in the 2,000 years of Christian history in which countless men and women have followed Jesus boldly and loved people fearlessly. Don't miss out on the wisdom and encouragement that history provides.