Posts tagged
Look Inside
0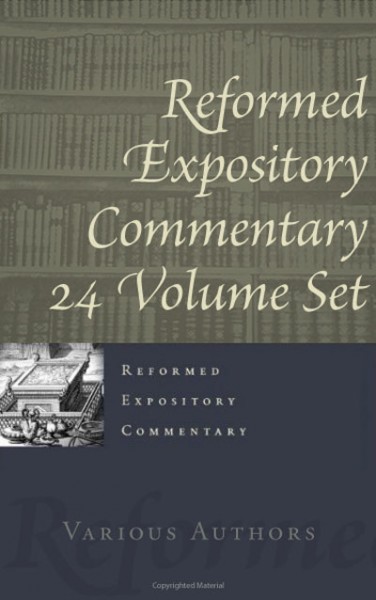 Most major Bible commentaries today are written by scholars who have dedicated their lives to the study of specific books of the Bible. These commentaries can be extremely helpful, but they aren't necessarily the best resource for a layman or a pastor trying to make the passage relevant to his congregants. This is where a series like the Reformed Expository Commentary from P&R can prove beneficial.
The Reformed Expository Commentary is a commentary written by pastor-scholars for pastors and laymen alike. As pastors, they recognize the need to provide faithful exposition of the text while also providing clear and relevant application. The contributors to the series aim to be scholarly in their writing, while not being academic. The idea is to be faithful and clear in teaching the text to Christians who possess various levels of biblical and theological training. The series achieves this by focusing on four fundamental commitments. First they aim to be biblical, by giving comprehensive exposition of each passage. Instead of going word by word or verse by verse, the passage is explained as an entire section. Second, the commentaries are doctrinal in their adherence to the Westminister Confessions and Catechisms, making them solidly reformed. Third, the commentaries possess a redemptive-historical orientation, focusing on the work of Christ throughout the entire narrative of Scripture. Finally, they are practical, applying the text to contemporary life, both public and private, through appropriate illustrations.
With that in mind, let's take a look at this commentary in Bible+. Screenshots are from an iPad Mini 4, click the image for a larger view.
Pericopes of Scripture
The scriptural text has been divided into pericopes, or passages, usually several verses in length. Each of these pericopes is given a heading, which appears at the beginning of the pericope. For example, the first pericope in the commentary on 1 Peter is "Strangers in a Strange Land – 1 Peter 1:1-2." To see the Scripture passage, tap on the highlighted reference, in this case "1 Peter 1:1-2." A pop-up window will open the Scripture passage to your default Bible translation.
Topical Headings
Each pericope can be further broken down into smaller sections. For this reason the commentary is divided into topical headings that relate to the passage. The topics focus on various aspects of each passage and help to relate them to the present day. This feature alone makes the Reformed Expository Commentary a valuable resource.
The Footnotes
Readers who wish to pursue a deeper investigation of their passage will find the footnotes especially valuable. Tapping on a footnote number will cause a box to pop up on the screen, where in addition to citations, one will find information on textual issues and other notes of significance.
Bible+ makes the Reformed Expository Commentary even more powerful! Here's how.
Resource Guide
Open your preferred Bible translation in the main window and have the Resource Guide open in the Split Window. You'll see relevant commentary "hits" from the Reformed Expository Commentary in the split window.
Bible+ also keeps up with the scripture passage you're reading in the main window with sync scrolling. This means that as you move along in the Bible text, the commentary syncs to exactly where you are in your study. No more flipping pages back and forth. No more holding the commentary text open on your desk in one spot, reading through your Bible text, and having to go back and find your place in the commentary. You'll save an enormous amount of time with this feature alone.
Linked Reference Pop ups
One of my greatest frustrations in the hard copy world of biblical commentaries is the other biblical references within the commentary. With a hard copy, I have to open a different Bible and find each and every reference to read how the verse relates to what I am currently studying. This is time consuming, slows down my study momentum, and requires me to keep all of my study materials out and open, spread out over a large desk space. With Bible+, the scripture references are hyperlinked within the commentary text. All I have to do is tap the scripture reference to read it instantly.
Copy/Paste into Notes
Commentaries are full of great content. I often find myself reading a passage, going deeper with the commentary and finding that "perfect quote" that sums up what I was thinking but didn't know how to express it in written form. However, in the world of hard copy commentaries, I have to re-type it into my personal study notes. With Bible+, all I have to do is highlight the text I want, copy and paste it into my notes. This feature saves me a ton of time, not to mention the wear and tear on my typing fingers!
Integrated Dictionary (iOS Extra)
In the iPhone/iPad version of our app you have an additional option. Tap and hold a word in the Bible text and an option menu bar will pop up. From here you get the options to Copy, Highlight, Note, Save, Share, Define, Lookup and More.
If you tap "Define" you will get the integrated iOS dictionary pop-up. This is extremely helpful when you run across a word in the commentaries or even the Bible text that you do not know.
Resource Guide on One Verse (iOS Extra)
An additional iOS option is looking up additional information on just one verse. Tap on a verse number and an option menu bar will pop up. From here you get the options Copy, Highlight, add a Note, Save, Share, Guide, and More.
If you tap the "Guide" button you'll get "hits" from your resources on just that specific verse. From here you can follow the same steps as you would in the resource guide option above. You can even choose to open the commentary in the main or split window.
This is helpful if you want to read through your Bible "full screen" and refer to the commentary when you want to see what it says about a particular verse.
As you can see, the Reformed Expository Commentary within Bible+ gives you the best content, while saving you valuable study time and tremendous effort.