Posted by LaRosa Johnson on 08/10/2015 in: Look Inside, What's New?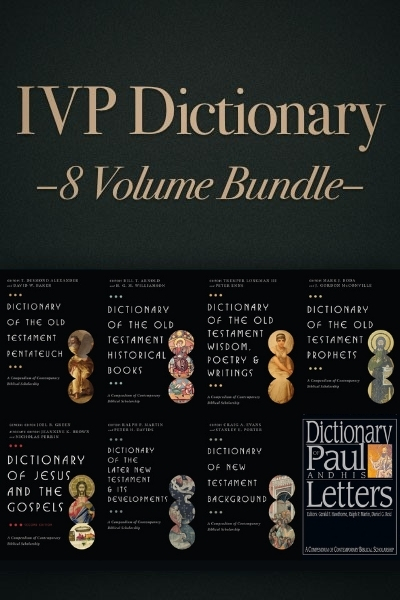 Any Bible study library worth its weight must contain good Bible dictionaries. Inevitably you will come across something you don't completely understand and you'll want more information than your study Bible or commentary has to offer. Bible dictionaries fill this void with their wealth of knowledge on a myriad of biblical subjects. Today I'd like to introduce you to the IVP Dictionary Series, a new top notch set that you'll want to own as a part of your Olive Tree library.
The IVP Dictionary Series, known to many as the "Black Dictionaries" because of their covers, is a unique set of reference works that bridges the gap between scholars and those pastors, teachers, students and lay people desiring in-depth treatment of select topics in an accessible format.
When you look at many Bible dictionaries published today, they are typically a single volume and may or may not contain information on your desired topic of study. Given their single volume nature, publishers have to decide what to cover and what gets trimmed down or eliminated for the sake of page count. This is not the case with the IVP Dictionary Series. Instead, you get eight (8) individual dictionaries that target specific areas of Scripture, whether it be the Old Testament prophets or Paul and his epistles. The articles cover traditional and contemporary topics, including cross-sectional themes, methods of interpretation, significant historical or cultural background, and each Old and New Testament book as a whole.
The great thing about having individual volumes that focus on specific areas of Scripture is it allows you to get an in-depth look at the subject as it pertains to the passage you're studying. As opposed to getting a broad overview that covers the subject over the entirety of the Bible, you can narrow down your study to only see how it relates to your passage. Allow me to illustrate, while showing you how to use them in the Bible Study app.
Let's say I'm in the gospels studying one of Jesus' miracles, such as his cleansing of the ten lepers in Luke 17:11-19. As I study this passage, I'm going to want to do more study on the subject of miracles and faith, since it is clearly an emphasis in this passage. The Resource Guide makes it easy to study these topics and suggests them to me. So, I click on faith.
As I peruse my list of hits I find many dictionaries in my library that discuss the subject of faith. Notice that the IVP Dictionary Series is in my list, and, of the 8 volumes, 6 have entries for faith. Since I'm currently in the gospels I will take a look at the entry in the Dictionary of Jesus and the Gospels.
Looking through the article, I immediately find out just how important faith is in the gospels, and the New Testament in general. I can then see a quick outline of the entry, before drilling down into the subject. When I'm done, I walk away with a greater understanding of how faith relates to the gospels and Jesus' ministry. Now, if I want to expand my study beyond the gospels, I can read the other IVP dictionaries and see how it is understood in other areas of Scripture, such as the Pentateuch or the later New Testament writings.
There are many ways you can utilize these dictionaries in your studies. If you know exactly what you're looking for, just open up the dictionary and navigate to your subject. Alternatively, if you're reading the Bible and find a word you want to study, tap it and use the Lookup feature to find hits in these dictionaries. How you use them is really up to you.
Purchase the IVP Dictionary Series today at it's introductory sale price and start using these dictionaries in your own studies. This is one set of dictionaries you will not regret owning!