Posts tagged
Read the Bible
0
Reading and studying the Bible are important disciplines for all Christians, but the concept of Bible study can be more elusive. In Rick Warren's Bible Study Methods, Warren starts out by saying, "I have discovered that most Christians sincerely want to study their Bibles on their own, but they just don't know how."
There are many classes, books and seminars full of theories and methods to teach you how to study the Bible. I took a class in seminary called Principles of Inductive Bible Study, and to this day I can hear the professor's voice in my head. Every day the professor would ask, "What's the first step in inductive Bible study?" and as a class we had to respond in unison, "Observation!" Then he would ask, "What question do we ask in the first step of Inductive Bible Study" and in unison we would again respond, "What does the text say?!" Often he would repeat these questions over and over until he felt we responded enthusiastically enough. He drilled into us what he believed to be the right steps for inductive Bible study, but his was just one out of a multitude of Bible study methods.
I'd recommend taking a look at How to Read the Bible Book by Book and How to Read the Bible for All Its Worth by Gordon D. Fee and Douglas Stuart as good introductory Bible study resources. Learn To Study The Bible by Andy Deane, and Knowing Scripture by R.C. Sproul are also helpful for picking up good Bible study tools and habits. Study Bibles, like the NIV Study Bible can provide notes, cross references and other insights into the text to help you in your Bible study. I have several study Bibles, dictionaries, commentaries and other resources that I consult when studying a particular passage of Scripture. However, don't get too bogged down with study books and miss out on the truths you can glean from digging into the text on your own.
Here are some things I do when studying the Bible (don't worry; I won't make you memorize these!):
Context, Context, Context
I start by looking for the historical context: the author, style of writing, time period, audience and the historical background that surrounds the text. I then focus on the biblical context. I read the previous and subsequent chapters to get a full picture of the passage. Finally, I look for how the passage is applicable to my life.
Absorb It

I like to read the passage through three times. I write down repeated words or phrases, metaphors, similes, exclamations or anything that stands out. If anything reminds me of another passage I'll look it up and compare. I like to pick out a couple of the repeated words and phrases for a quick word study, looking for other places those words are used in Scripture using my Strong's Bible.
Retain It
I like to re-write the passage of Scripture in my own words, taking into account all of the work I've done up to this point. I then summarize my study in three sentences or less. I'm terrible at memorizing Scripture, but I've found that re-writing the passage in my own words helps me to recall the verse, even if it isn't exact.
Do you have steps for Bible study that you follow? Is there a resource that you find especially helpful for your study? Let us know by leaving us a comment.
We're a week into the Olive Tree Summer Bible Reading Plan, and we've been reading the stories of Adam and Eve, Abraham, Isaac, and Jacob, Joseph, Moses, and the striking account of the power of God in the Exodus of the Israelites from Egypt.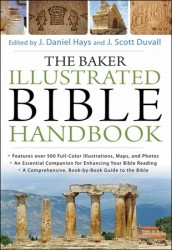 These stories remind us that our individual stories fit into God's overarching plan of redemption. Our intention with the Reading Plan is to throw you headlong into the full biblical narrative. The authors of the Baker Illustrated Bible Handbook also want to bring your story in line with God's story.
An excellent companion to the Olive Tree Bible Reading Plan, the Baker Illustrated Bible Handbook is split into three sections:
The first section explores the Bible's organization, explains the basics of each book of the Bible, and gives a cultural and historical framework for the Old and New Testaments.
The second section deals with the inspiration of Scripture and the steps taken to bring Scripture into the form we know it today. Topics explored in this section include the New Testament canon, the Dead Sea Scrolls, Bible translation, and more.
The third section of the Handbook addresses how we use and understand the Bible, including information about literary features in the Bible, archeology in the Bible, and issues of authorship.
There is something new for every student of Scripture. This invaluable resource will give you a broader and deeper understanding of the historical and cultural roots of God's Word. At the same time, the Word of God transcends time and space in its message. Yesterday, today and forever, the Good News is that God in Christ "proclaim(s) good news to the poor…, liberty to the captives and recovery of sight to the blind, to set at liberty those who are oppressed, to proclaim the year of the Lord's favor" (Luke 4:18-19).
Download the Olive Tree Summer Bible Reading Plan today for free here by logging into your Olive Tree account. After today, the Reading Plan will be sold for 99 cents.
When I was a sophomore in college, I took an Old Testament Survey class in which we read the entire Old Testament in one semester. I remember reading the syllabus during our first class and balking at some of our homework assignments. Read Psalms 76-150 for Wednesday's homework. Read Isaiah for Friday. Yes, that's right. Read all of Isaiah.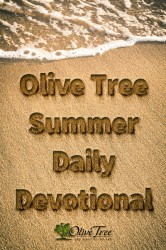 Without a doubt, the volume of reading that semester was a challenge. But in hindsight, I am thankful for the lightning-speed pace with which we moved through the Old Testament because it revealed an overarching narrative to the Bible that I'd never noticed. There is a profound continuity between the Old and New Testament. God really is "the same yesterday and today and forever" (Hebrews 13:8) and his desire is for the salvation of all people, first for the Jew and also for the Gentile (Romans 1:16).
When we were discussing overarching themes for the summer here at Olive Tree, we got hooked on this idea of reading through parts of the whole Bible in one summer. Rather like New Year's, summer carries its own set of resolutions and to-dos. We invite you to make Olive Tree's Summer Bible Reading Plan your goal for the summer.
Here's the lowdown on reading plan:
The reading plan organizes the Bible's 66 books into eight literary genres: Law, History, Poetry, Major Prophets, Minor Prophets, Gospels and Acts, Paul's Letters, and the General Letters/Revelation.
Each genre and book of the Bible includes a succinct introduction written by Olive Tree staff members that will help both mature and new Christians understand the basic historical context and themes.
The plan's dates are from June 1 to September 11. In most cases, you'll be reading several chapters a day.
The plan will be available as a free download until Friday, June 8. After that, it will be available at OliveTree.com for 99 cents.
Olive Tree is excited to help you dive into the Word of God. Our end goal for the Summer Reading Plan is that you become so steeped in God's story that it begins both to define and transform your life.
"Let your roots grow down into [Christ Jesus], and let your lives be built on him. Then your faith will grow strong in the truth you were taught, and you will overflow with thankfulness." (Colossians 2:7, NLT)