Posts tagged
study bibles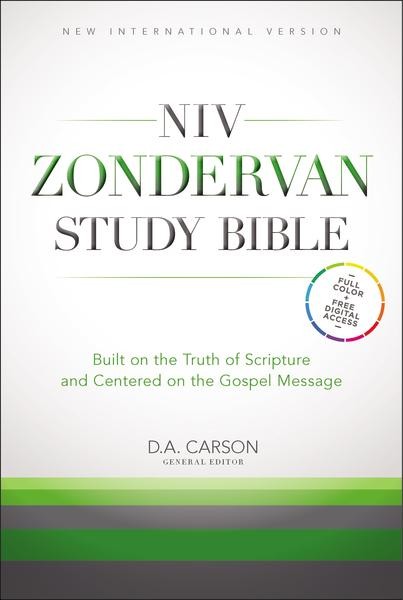 We at Olive Tree are excited to share a new study Bible with you!
Next week Zondervan will release the NIV Zondervan Study Bible, featuring Dr. D.A. Carson as general editor. Built from the ground up to reflect the most current 21st century scholarship Dr. Carson, along with a team of over 60 contributors, crafted all-new study notes, book and section introductions, a library of articles, and other study tools that specifically focus on biblical theology, or the progressive unfolding of theological concepts through the Bible.
As you read and study with the NIV Zondervan Study Bible, you'll gain a deeper understanding of the biblical writers, the times in which they wrote, and the larger purpose of their writing in God's story.
What Makes It Different?
When a new study Bible hits the market, everyone immediately wants to know how it's different from the study Bibles that are currently available. Here's a quick list of some of the features that set the NIV Zondervan Study Bible apart from the rest.
Nearly 20,000 Verse-by-Verse Notes by today's leading biblical scholars offer insight on every passage of scripture.
Section Introductions to the Bible's literary genres such as the Pentateuch and the Historical Books and Comprehensive Book Introductions including purpose, theme, outlines, and photos.
28 Articles by biblical experts on theological topics such as, "The Covenant," "The Glory of God," and "Love and Grace."
Hundreds of Color Photos such as biblical artifacts are placed within the study notes.
Over 90 Color Maps with explanatory notes are placed near relevant passages.
Over 60 Color Charts help summarize information and concepts.
Thousands of Cross-References and an NIV Concordance with over 35,000 Scripture references help you see the connectedness of Scripture.
Content from respected names like: D.A. Carson, Douglas Moo, Richard Hess, Kevin DeYoung, Tremper Longman III, Bruce Waltke, and Tim Keller, to name only a few.
Olive Tree has also optimized the NIV Zondervan Study Bible for use in the Bible Study App, which makes this great resource even better! Use the study Bible in conjunction with the Resource Guide and look up cross references that are only a tap away.
Preview the Olive Tree Version
Here are a few screenshots of the NIV Zondervan Study Bible running on our new Windows Desktop app.
Buy in Print, Get Digital for Free
Yes, you read that right. We have partnered with Zondervan to do something special with the NIV Zondervan Study Bible. All print copies of the study Bible contain a redemption code that can be used to download a free copy of the NIV Zondervan Study Bible for the Bible Study App from Olive Tree. You can't really beat that 2-for-1 deal!
If you're not the kind of person who buys print, that's fine too. We'll have the NIV Zondervan Study Bible on sale next week at special introductory pricing.
We are blessed to live in a time where sharing information is easier than ever and through technology we can access amazing resources that can help guide us in our understanding of God's word. Here are three types of resources that can help to guide, unpack, and illuminate your personal Bible Study.
Study Bibles
Have you've ever read a difficult passage and wished you knew a little bit more about the context or the culture? Study Bible's offer 'bite sized' commentary on specific verses in the Bible and often include insight into custom, culture, history, geography, original language and more. A study Bible can be written by one individual or a group of scholars. When selecting a Study Bible it's important to note that while some content is neutral (such as history or geography) there is also a theological interpretation being employed by the author or authors. Overall study Bible's make an easy to use quick reference tool for understanding tough passages and in the Bible Study App they can be used with any version of the Bible.
Commentaries
Similar to study Bibles, commentaries offer great background and understanding on the Biblical text but often go much deeper than a study Bible. Bible commentaries range greatly in their content and approach. Some commentaries may be one volume on the entire Bible and others may be an expansive set that have a volume for each book of the Bible. When selecting a commentary it's important to understand the approach that the writer of the commentary has employed. Some commentaries jump deeply into critical language investigation or historical context while others may focus more on how to understand and apply the Biblical text to everyday life. In The Bible Study App commentaries follow along with the Bible passage you're reading and are easily accessed in the Resource Guide.
Dictionaries
What does that word mean in the Greek? Where else is it used in the Bible? Bible dictionaries allow you to answer these questions and more. With a good Bible dictionary you can see what the original Greek and Hebrew words are behind the English (or other language) translation and how else that word is translated in other places in the Bible. For deeper word study and explanation a Bible dictionary is a must have study resource to help you go deeper in your understanding. Bible dictionaries can be used as a standalone resource or simply tap a word and use the 'lookup' feature in The Bible Study App.
What are your favorite Bible Study tools? Share in the comments.
Olive Tree has some top Bible study tools on special this week. Go here to see more!